Are there differences between traditional smoke detectors vs. monitored fire alarms in Toledo?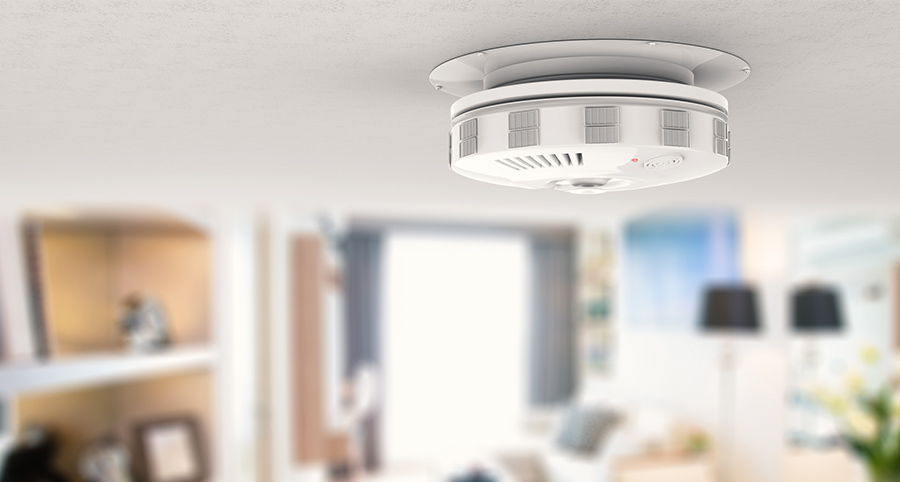 In the Toledo smoke detector vs. monitored fire alarm debate, there's easily only one victor. Smoke detectors are an essential consideration in guarding your residence from fire, but they have some notable shortcomings. Alternatively, monitored fire alarms provide more ways to detect a fire and may notify a monitoring team when the unthinkable happens. Linking your fire alarms to a comprehensive smart home also brings out various extra perks that your common smoke detectors can only hope for.
Your ordinary smoke alarms in Toledo may be inadequate
Protecting your home from fire is important, and smoke detectors play a critical part in keeping your family safe. However, smoke detectors have some shortcomings. To illustrate, they are only able to react to smoke, not extreme temperatures. When there is a blaze starting in your residence, you would not be cautioned until the smoke reaches the smoke detector. While there are additional telltale signs of fire -- including a sudden increase in warmth -- if there's no smoke, there is no warning from your smoke detector.
What's more, smoke detectors only beep when they encounter ample smoke. When a fire begins slowly, you may not be warned until the situation is out of hand. Many smoke detectors utilize more than one sensor, meaning they will detect smoke from both a blazing inferno and a more gradual burn. Then when they sound their alarm, it's up to the occupant to notify the fire department after safely leaving the property.
Monitored fire alarms do much more than standard smoke detectors
Although they look about the same as traditional smoke detectors, monitored fire alarms have added advantages. When integrated to a total home security installation, they are able to:
Identify fire with dual-sensor smoke detection: Comparable to a traditional smoke detector, this monitored device has the ability to trigger from an active or passive fire. It will sound a high-volume alarm whenever it recognizes a hazardous situation.
Identify fire from a sudden heat surge: Your monitored fire alarm may also go off if it discerns an abnormal increase in heat. Typically, heat arrives in advance of smoke. Having additional means to uncover a fire equates to extra ways to keep your family safe.
Alerts your dedicated monitoring specialists: Fires can occur when you are home or away. No matter of the situation, your fire alarms will alert your monitoring team, who are able to swiftly call emergency services. When every tick of the clock is critical, it's comforting to realize that somebody is constantly keeping a watch of your house.
Connects to home automation: Although the primary purpose of a fire alarm is to detect dangerous situations and notify help, it can also integrate with other automated components. To illustrate, a triggered alarm could prompt your system to turn on the exhaust fan to hinder the spread of fire or initiate smart light bulbs so you are able to see the best exit out of the property.
Your monitored fire alarms are an important aspect of a fully equipped smart home
The simplest way to get the most from your fire alarms is to pair them with a Vivint home security system. Contact a Vivint expert today and customize the perfect smart home for your family. Diall (419) 614-6278 or submit the following form to begin.