How to protect your rental property in Toledo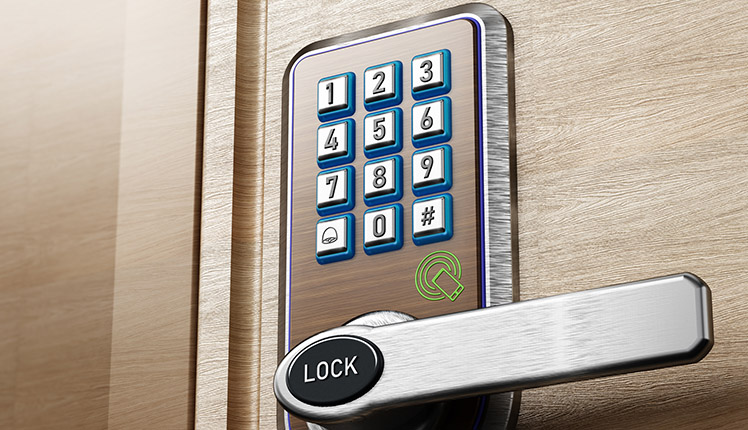 Irregardless of whether you sublet the family lake house or you run numerous Airbnbs, it can be challenging to protect your rental properties in Toledo. With a constant turnover of tenants, it's simple to miss a key in the handover or realize that you're missing a valuable belonging. And what should you do when there's a flood or fire at your Airbnb while it's being leased?
From smart locks to comprehensive security with home automation, here's a quick guide on how to protect your Airbnb in Toledo.
Say goodbye to traditional keys when you use smart door locks
When a visitor checks out, they might leave the keys behind for the following inhabitant. Although, if someone took or copied a key, they would be able to re-enter later. Of course, you might replace your locks when a key is lost, but that is not a timely or cost-effective solution.
Thankfully, you can use smart door locks that operate in conjunction with your home security system to counter these concerns. Then, you can give every guest their personal code number for entry. When they check out, don't worry about an exchange of keys. You can simply set the temporary code to no longer work after they exit. If previous occupants come back and attempt to use their old code on the number pad, you will be alerted with a notification on your smartphone.
Home automation makes empty properties appear occupied at all times
The goal is that your Toledo rental property will be occupied, but that isn't likely to always be the case. Nevertheless, you should strive to give an impression that people are present so your rental isn't an easy mark for prowlers. Incorporating a security system that includes home automation affords you the opportunity to take advantage of smart lights, motion detection devices, and video cameras that make your lodging seem occupied.
Start by setting some lights to come on at specific hours of the evening. Then, use your security smartphone app to warn you if your exterior cameras notice an intruder hiding in the dark or approaching the front door. You can employ the talk feature so they know they're being watched or arrange for your lighting to instantly turn on when a camera or motion detector discerns suspicious activity.
Protect your Toledo Airbnb with 24/7 monitoring
Your occupants will be more relaxed if they feel protected against intruders, particularly when Toledo is not familiar to them. If a prowler attempts to break in, your home security system will not only sound a siren but will also alert your 24/7 monitoring professionals. Now, no matter where you are, help will be forthcoming. Your monitoring agents are capable of acting as your authorized go-between and loop you in as soon as you're able.
Besides break-ins, your monitoring center can be linked to fire alarms, flood sensors, and carbon monoxide sensors. It would be understandably harrowing for your renter if flooding occurs or a fire erupts. You will then receive a cell phone alert that an emergency has taken place, but the monitoring agent will also authorize assistance while you're in transit.
Order an innovative home protection plan in Toledo
The most sensible strategy to protect your Toledo rental property is to invest in a home security system. Luckily, Vivint offers popular choices like smart lighting, smart door locks, and 24/7 monitoring. Reach out today and our home security experts will design a system that makes sense for your Airbnb or rental property. Phone (419) 614-6278 or submit the form today!